Salaries of IT specialists in Poland
In which city in Poland should you start as a junior programmer, and where are the highest salaries for seniors?
Katarzyna Kulas-Kurek
19.03.2020
Salaries in IT – an important topic regardless of whether you are just taking your first steps as a programmer, or are you confident in your competencies as a senior developer.
If you take part in recruitment or just know what the situation in the industry looks like, this is an important topic as well as the technology and project that you would implement.
The topic of money warms up emotions more than urban legend and the headlines "programmers earn far too much", "for less than 7k I do not get up" … just boost the atmosphere.
We decided to analyze the salaries in IT that companies propose on popular IT advertising portals (NoFluffJobs, BuldogJobs, JustJoinIT, 4programmers, and Jobviously) and check whether programmers earn a lot.
We focused on Java, Python, C ++, and JavaScript programmers, which we are looking for for our teams and projects.
Each position/technology is divided into remuneration offered for employment under a standard work agreement, later called UoP, (gross amount) and rates offered for those settling on B2B (the rate is the amount on the invoice, before deducting taxes, etc.).
We checked in which city in Poland it is worth starting a career as a programmer, and where they pay best to seniors.
Are you curious about our results? We invite you to read!
Java is the highest-paid programming language
According to our analysis, Java is the highest-paid software language, especially in Krakow.
For Junior Java Developer, rates start from 6500 PLN to 9000 PLN, based on the employment contract.
Java mid-level programmer in Kraków can earn between 7500 and 15000 PLN at UoP and 16000-20000 PLN at B2B.
A bit more Java programmer can earn in Warsaw, but long term perspective and senior role, it is worth to stay of Kraków.
Senior Java Developer in Krakow can count on rates from 12,000 – 18,500 PLN on UoP and from 17,000 PLN to even 31,400 PLN on B2B.
Python programming anyone?
If you are at the beginning of your Python programming journey, companies in Warsaw offer the best salary, as you can earn from 4300 up to 12000 PLN (UoP).
Companies based in Wrocław, are the only ones among those analyzed, offer B2B contracts to Junior Python Developers, and rates are within 4300 and 12000 PLN.
Having already several years of experience as a Python Developer, the highest pay under a standard work agreement is offered by companies from Krakow and Warsaw, between 6000 and 17000 PLN. If you have a B2B contract, you can get the highest rates as you can count on Krakow from 15000 to 21000 PLN.
Senior Python Developer will earn the most in companies from the Tri-City and Warsaw. Working on the B2B contract, he can count on earnings from 15000 to 27000 PLN.
As for the standard work agreement, the Tri-City wins, where companies declare rates between 8500 and 20,000 PLN in their offers.
C++ still popular
Companies that during our analysis published salaries in offers for Junior C ++ Developers are based in Krakow, Warsaw, and Wroclaw. The salary offered, based on the standard work agreement, is on an even level and ranges between PLN 3500 and 4500.
C++ programmers with several years of experience can get the highest earnings in Warsaw, regardless of the type of cooperation.
The salary for employees on a standard work agreement begins at 7000 and ends at 16200 PLN. When a C++ specialist is on a B2B contract, rates start at 15000 and up to 19200 PLN.
Companies from Wroclaw and Warsaw win the race for remuneration for Senior C ++ Developers.
Wroclaw companies propose the highest salary for those employed on a UoP, between 12000 and 18000 PLN. Warsaw companies have the most interesting offer for B2B contractors, as rates begin from 12500 up to 30000 PLN.
JavaScript
This programming language which for a long time was used primarily for creating websites, for novice programmers is not too kind when it comes to remuneration.
You can earn the most on the employment contract in Warsaw. Here Junior JavaScript Developer can count on a salary of between 4000 and 8000 PLN.
What surprised us, companies from Wroclaw give juniors the option of B2B accounting, and rates are from 4000 to 8000 PLN.
JavaScript Developer with some professional experience can count on the highest earnings in Warsaw companies.
JS specialists employed on standard work agreements may earn from 7500 up to 17000 PLN.
Rates rise for JavaScript specialists on a B2B agreement and reach up to 21000 PLN.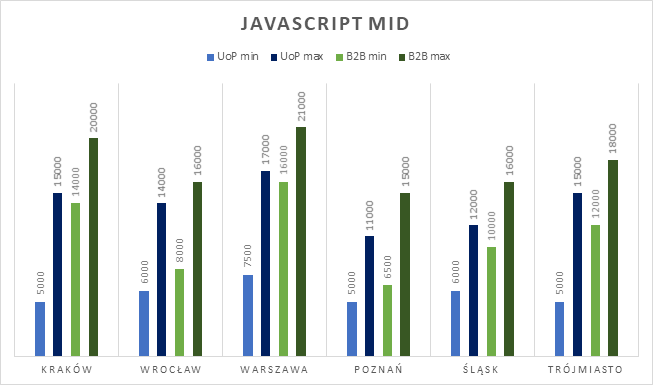 Companies from Warsaw also have the best offer for Senior JavaScript Developers. The proposed remuneration for the standard work agreement ranges from PLN 10,000 to PLN 20,000.
If the programmer wants to cooperate on the B2B contract, the rate increases and negotiations start from PLN 19,000 to 26,800.
Conclusions?
When it comes to the level of remuneration for Java, C ++, Python, and JavaScript programmers, companies in Warsaw, Krakow, and Wroclaw offer the highest salaries. However, we want to emphasize these results are on the analysis of IT job offers with remuneration.
First of all, the absence of remuneration in job offers for an entry-level position in most cities is the biggest concern here. Usually, at the beginning of a career, you have the strongest dilemma "how much should I earn as a junior employee".
The second case is the lack of offers with rates for younger programmers who would like to work on a B2B basis. Is it because people starting their careers want to start a full-time job, and therefore these proposals are dominant? Or maybe there is another reason? Let us know what you think in the comments.
And now the answer to the question posed at the beginning of this post:
Do programmers earn a lot?
Compared to most industries, yes.
Should they earn so much?
Our answer is yes, as we see how the software created by our programmers affects the quality of life and work of thousands of people in the world.
And what do you think about salaries in IT in Poland? High, sufficient, too low?
Please, share your opinion.
If you do not agree with this data, you earn more or less, write to us. We'll be happy to update our payroll map.