Summary
💰 100 - 115 PLN/h on B2B
💰 11 200 - 13 000 PLN gross on UoP
📍 Hybrid/Kraków
💼 Senior


Project
The company has been a leader in advanced safety for over 20 years. During these years they've had many other industry firsts, which are helping the industry realize safer and more convenient mobility solutions. Their flexible and scalable solutions are helping to accelerate the adoption of Advanced Driver Assistance Systems (ADAS) globally, enabling new functionality with maximum reuse.
Their expertise in central compute platforms, sensing and perception systems, and high-speed, high-reliability power and data distribution are helping them deliver more innovative, safer, and more integrated solutions, both outside the vehicle with advanced active safety systems – as well as in the cabin through enhanced user experiences.
You will
Develop, document, and execute software systems tests according to E&S standards

Define test procedures and test cases

Develop automatic test environment and automatic tests (when suitable)

Execute tests, create test reports, and report bugs

Execute vehicle tests (when suitable)

Actively participate in software systems test-related reviews and project meetings

Keep contact with clients (when suitable) in the area of software development and software systems tests

Actively participate in technical innovations and organization programs

Accomplish tasks in accordance with E&S and TCK quality standards and schedules

Care for good company image

Develop professional qualifications

Care for confidential information and the company's property
Must have
MSc degree in

Electronics or Computer Science or related

Knowledge of

electronics and electronic measurement basis
Knowledge of software programming basis

Ability to

speak, read and write in English

Being team oriented

Being honest in relation to company, clients, and co-operators

Good knowledge of MS Office

Methodical approach to problem-solving

Willingness to travel as required

Knowledge of

systems and devices testing tools and methods
Nice to have
Knowledge of script programming languages

Ability to speak, read, and write in

German or French
Prior experience in the automotive industry
Our offer
Possibility to attend internal and external training
Relocation package (4500 PLN total value), paid in three installments (1500 PLN per month) in case your permanent presence in the office is mandatory, and you need to relocate from another city
Benefits: Extended medical care (over 2000 medical facilities in Poland, 80 in Kraków) for you and your family; Multisport Benefit card; life insurance
Jesteś zainteresowany?
Aplikuj na to stanowisko
Aplikuj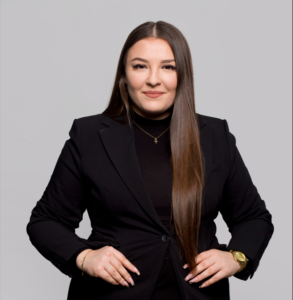 Projekt prowadzi
Regina Pajor