Summary
💰 75 - 95 PLN/h B2B
💰 8 000 - 12 000 PLN gross UoP
📍 Kraków/ Remote
💼 Mid
Project
We are looking for a skilled DevOps Engineer to join our team. The successful candidate will be tasked with provisioning, operating, and managing AWS environments, and implementing CI/CD pipelines.
We develop an application for pet owners and vet professionals. Each pet owner user can make a call, and the app finds nearby vets and enable a connection between them. It contains native mobile apps (iOS/Android) and the back-end, which is written in JAVA Spring Boot and uses AWS infrastructure.
You will
Design and implement scalable, reliable, and secure AWS environments using best practices
Provision and manage infrastructure resources on AWS, including networking, security, storage,
databases, and compute instances
Develop and maintain CI/CD pipelines for automated deployment and testing of applications
Deploy and orchestrate applications using containerization technologies like Docker, Kubernetes, or ECS, and ensure their efficient management
Monitor and troubleshoot AWS environments, including performance tuning, log analysis, and resource optimization
Implement and enforce security measures and best practices to ensure the confidentiality, integrity, and availability of systems and data
Collaborate with cross-functional teams to identify and address infrastructure and deployment-related issues
Stay up to date with the latest trends and advancements in DevOps practices, AWS services, and related technologies.
Must have
Good understanding of Docker and containerization
Experience with Kubernetes or ECS
Proficiency with Git
Experience with writing scripts (bash or python knowledge)
Understanding of software development lifecycle (SDLC) concepts, phases, and models
Experience in integrating automated testing into CI/CD pipelines
Knowledge of Github workflows, GitLab CI, Jenkins, or Travis CI
Knowledge of AWS Management Console and CLI
Understanding of the core AWS services, including:
- Network: VPC, API Gateway, Route 53
- Security: IAM
- Storage and file systems: S3, EBS, EFS, FSx
- Management, Monitoring, and Governance: CloudWatch, EventBridge, Auto Scaling,
Secrets Manager
- Database: RDS; DynamoDB would be a benefit
- Containers: ECS, Fargate; EKS would be a benefit
- Compute and Serverless: Lambda and EC2
- Application Integration: SQS, SNS; MQ would be a benefit
Understanding the IaC concept, and knowing at least one IaC tool, preferably Terraform
AWS certification would be a benefit


Our offer
Necessary equipment to work
Flexible working hours
Remote work possibility
Interesting, challenging, and exciting work with international teams
English lessons with a native speaker
Training Budget
Multisport card
Private medical insurance
Jesteś zainteresowany?
Aplikuj na to stanowisko
Aplikuj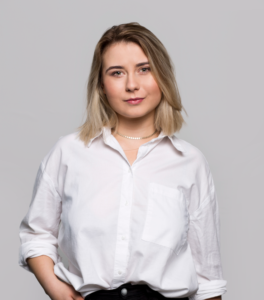 Projekt prowadzi
Joanna Olszewska