Summary
💰 140 - 160 PLN/h B2B
💰 16 700 - 19 300 PLN gross UoP
📍 Kraków/Remote
💼 Architect
Project
As a Security Architect, you will play a key role in our strategy, creating concepts and designs of highly complex cloud solutions to enhance the security of our company's cloud infrastructure. You will challenge existing solutions to bring them to the next level and will lead the conception of entirely new and game-changing solutions.
To us nothing is impossible, you will have the autonomy to proof concepts and explore state-of-the-art solutions, having fun and celebrating success along the way
You will
Develop and Implement Security Architecture: You will design and implement robust cloud security architectures for Azure and AWS environments. Your work will provide defense against security breaches and ensure the integrity and confidentiality of sensitive data
Assess and Mitigate Risk: Evaluate cloud infrastructure and identify areas of vulnerability or inadequate security. Develop strategies and security measures to mitigate risks while maintaining system performance and usability
Collaborate with Cross-Functional Teams: Work closely with other teams, such as development, operations, and business stakeholders, to integrate security controls at every stage of the software development life cycle
Security Policies and Procedures: Develop, maintain, and enforce cloud security policies and procedures in line with industry best practices. Provide training and guidance to staff on these protocols to ensure they are correctly followed
Incident Response: Respond to and manage security incidents, providing thorough post-event analyses to identify areas for improvement in defensive strategies.
Must have
Have a proven track record with a minimum of 5 years in a similar role, with extensive experience in Azure and AWS environments, focusing on cloud security architecture
Hold relevant security and cloud certifications such as Certified Information Systems Security Professional (CISSP), Certified Cloud Security Professional (CCSP), AWS Certified Security – Specialty, and/or Microsoft Certified: Azure Security Engineer Associate
Deep technical knowledge of cloud architecture, security principles, and understanding of network, operating systems, databases, and application-level security. Familiarity with cloud security tools and features offered by Azure and AWS
Strong verbal and written communication skills are essential. The ability to articulate complex security topics to a wide range of audiences, from technical teams to non-technical stakeholders
Demonstrated analytical and problem-solving skills, and the ability to understand complex issues and propose innovative solutions. Proven ability to anticipate and manage risks and threats.


Our offer
Possibility to attend internal and external training
Relocation package (4500 PLN total value), paid in three installments (1500 PLN per month) in case your permanent presence in the office is mandatory, and you need to relocate from other city
Benefits: Extended medical care (over 2000 medical facilities in Poland, 80 in Kraków) for you and your family; Multisport Benefit card; life insurance
High standard facilities, kitchen or easy access to food courts or restaurants; comfortable location, easy access by public transport, parking for bicycles
Remote work option
Jesteś zainteresowany?
Aplikuj na to stanowisko
Aplikuj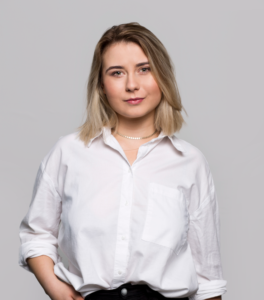 Projekt prowadzi
Joanna Olszewska