Summary
💰 140 - 160 PLN/h B2B
💰 16 700 - 19 300 PLN gross UoP
📍 Kraków/Remote
💼 Mid
Project
We are seeking an innovative HIL Test Framework Engineer to establish a global strategy and reusable tools for our projects. This role requires a high level of strategic thinking and planning, as the successful candidate will be responsible for creating a reusable, scalable, and efficient HIL Test Automation Framework to be implemented globally across all our projects.
Our mission is to shape a world with a significantly reduced number of road accidents, fatalities, and injuries.
You will
Develop and implement a global HIL Test Automation strategy to meet the needs of our diverse range of software projects
Architect a robust, reusable, and scalable HIL Test Automation Framework to automate various types of tests, such as smoke testing and sanity testing, against actual hardware
Collaborate with teams across different projects and regions to understand unique requirements and ensure the global testing framework accommodates these needs
Keep abreast of new testing technologies and methodologies to drive continuous improvement of the testing framework
Develop and maintain thorough documentation of the testing framework and deployment procedures
Debug and rectify issues in the global testing framework
Train and support project teams in the implementation and use of the global HIL Test Automation Framework.
Must have
Bachelor's or master's degree in Computer Science, Software Engineering, or a related field
Extensive experience in creating and implementing global HIL Test Automation strategies
Proven expertise in developing scalable and reusable HIL Test Automation Frameworks
Familiarity with different types of testing, including smoke testing and sanity testing
Familiarity with popular testing tools such as CANoe, ETAS, etc.
Proficiency in programming languages such as Python, Java, or C++
Experience with version control systems like Git
Strong strategic thinking and planning abilities
Excellent interpersonal and communication skills, with the ability to train and support diverse teams
Familiarity with automotive industry standards and regulations is a plus.


Our offer
Possibility to attend internal and external training
Relocation package (4500 PLN total value), paid in three installments (1500 PLN per month) in case your permanent presence in the office is mandatory, and you need to relocate from other city
Benefits: Extended medical care (over 2000 medical facilities in Poland, 80 in Kraków) for you and your family; Multisport Benefit card; life insurance
High standard facilities, kitchen or easy access to food courts or restaurants; comfortable location, easy access by public transport, parking for bicycles
Remote work option
Jesteś zainteresowany?
Aplikuj na to stanowisko
Aplikuj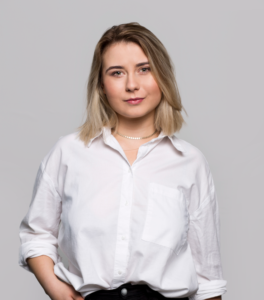 Projekt prowadzi
Joanna Olszewska