SUMMARY
💰 100 - 115 PLN/h (B2B)
💰 11 200 - 12 800 PLN gross (UoP)
📍Remote
💼 Mid


PROJECT
Our project is a family of products that acts as a connector for our company's core systems and makes its capabilities available to customers through discrete services APIs. It provides access to robust, end-to-end functionality such as flight search, seat map, and flight purchase, but also gives airlines complete control when writing their client software. Airlines can create a distinctive look and style for their websites and design their flows to display information and prompt passengers for input.
YOU WILL
Develop and test web services backend systems
Assist in problem-solving in both development and production environments
May Assist in the development of software technical documentation
Work with the team to understand problems with software and resolve them
Respond to suggestions for improvements and enhancements
Participate in agile-driven teamwork
MUST HAVE
Passion and enthusiasm for software development, commitment to achieve goals
Experience (1-3 years) in developing Java applications (Spring, Spring Boot)
Solid knowledge of Java and general programming concepts (including Design Patterns)
Experience with Oracle, GIT, Maven, Jenkins
Solid knowledge of SOAP and REST Web Services
Experience in agile development
Robust analysis and problem-solving skills
Strong communication skills in English written and verbal
NICE TO HAVE
Understanding of Microservices designs and service-oriented architectures
Experience using AWS or GCP cloud platforms
Experience with SQL/NoSQL and in-memory data structures (Redis)
Experience with application servers (Tomcat)
Experience with containerization-based technologies such as Docker, Kubernetes, OpenShift
Travel/Airline industry experience
OUR OFFER
Possibility of attending internal and external training
Relocation package (4500 PLN total value), paid in three installments (1500 PLN per month) in case your permanent presence in the office is mandatory, and you need to relocate from another city
Benefits: Extended medical care (over 2000 medical facilities in Poland, 80 in Kraków) for you and your family; Multisport Benefit card; Life insurance
Remote work option
Du bist interessiert in?
Bewerben Sie sich für diese Stelle
Bewerben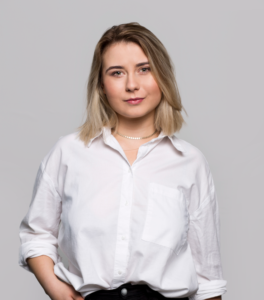 Das Vorhaben eine
Joanna Olszewska